Climb Gradient Table

by
http://alexpaterson.net/aviation/climbgradient.htm

Last Updated: 7 January 2014
---
MASTER INDEX of articles written, posted online, or recommended by Alex Paterson
---
Below is a table converting Climb Gradient as a percentage (%) to Rate of Climb (ROC) in feet per min (ft/min) for various airspeeds.

The author accepts no responsibility for any mistakes that may be contained within the table.

Readers are asked to advise Alex Paterson of any mistakes or discrepancies within the table.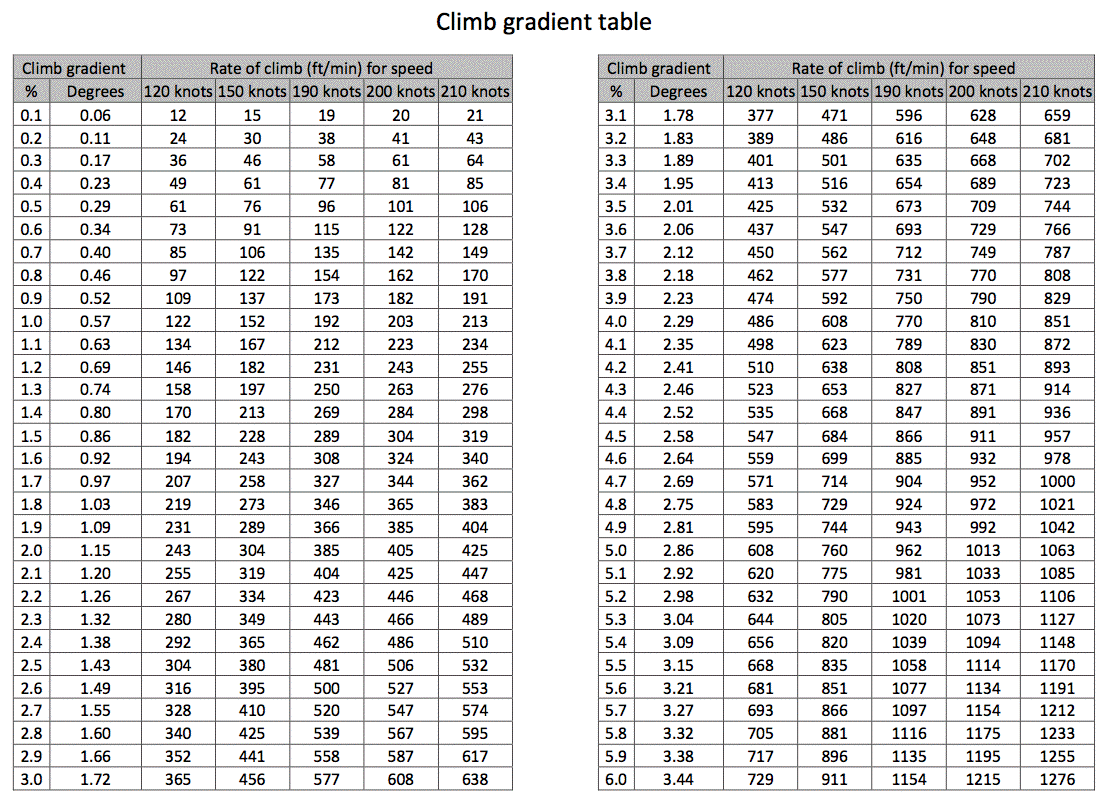 Table compiled by Frank van de Woude.

Link to Climb Gradient Table as a PDF document:


Alex Paterson (2014)



---
RELATED ARTICLES:
None
---
RELATED WEBSITES:
None
---
ABOUT Alex PATERSON
Alex PATERSON is an Australian airline pilot by profession. He writes articles and advises on issues pertaining to aviation, politics, sociology, the environment, sustainable farming, history, computers, natural health therapies and spirituality.
He can be contacted at:
Photograph of Alex Paterson
---
COPYRIGHT DETAILS
The document, 'Climb Gradient Table' is the copyright © of the author, Alex Paterson. All rights reserved by the author. Not withstanding this, the document may be reproduced and disseminated without the express permission of the author so long as reference to the author is made, no alterations are made to the document and no money is charged for it.
---
Additional keywords: none
RETURN TO THE BEGINNING